Substance Use Treatment Episodes*: Monroe, IN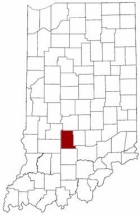 Year of Data: SFY2021
Data Source: Indiana Family and Social Services Administration, Division of Mental Health and Addiction
| | Monroe | Indiana |
| --- | --- | --- |
| Total number of admissions for treatment | 689 | 23,573 |
| Number of admissions with alcohol use reported | 299 | 10,228 |
| Percent of admissions with alcohol use reported | 43.4 | 43.4 |
| Number of admissions with marijuana use reported | 342 | 11,102 |
| Percent of admissions with marijuana use reported | 49.6 | 47.1 |
| Number of admissions with cocaine use reported | 55 | 2,419 |
| Percent of admissions with cocaine use reported | 8.0 | 10.3 |
| Number of admissions with heroin use reported | 205 | 5,402 |
| Percent of admissions with heroin use reported | 29.8 | 22.9 |
| Number of admissions with methamphetamine use reported | 383 | 9,746 |
| Percent of admissions with methamphetamine use reported | 55.6 | 41.3 |
| Number of admissions with prescription opioid use reported | 117 | 3,788 |
| Percent of admissions with prescription opioid use reported | 17.0 | 16.1 |
*Note: Treatment data represent the number of admissions to treatment, not the number of individuals (who may be admitted to treatment more than once in a year). The data include only admissions to state-funded treatment (individuals who are at or below 200% of the federal poverty level).
Opioid use/dependence includes use of heroin, non-prescription methadone, and other opiates/synthetics.
Prescription stimulant use/dependence includes use of other stimulants and other amphetamines.
Dependence was defined as individuals in substance abuse treatment listing [name of substance] as their primary substance at admission.
Information on treatment episodes <5 was suppressed due to confidentiality constraints.